Presentations
We received an excellent response to our call for proposals, which was exciting but also made for a difficult selection process! Thank you to everyone who submitted a proposal.
The CyPosium will open with an introduction by Maria Chatzichristodoulou, then there will be three blocks each with three presentations followed by a facilitated discussion and questions. We hope that this will create a good opportunity for discussion between presenters and audience as well as about individual presentations.
Click here to see the schedule, with time converter links. Click here to download the media release (PDF).
The selected presentations are (click the title for the abstract):
Introduction
Block 1
Block 2
Block 3
Cyberformance? Digital or Networked Performance? Cybertheaters? Or Virtual Theatres? … or all of the above?
Maria Chatzichristodoulou [aka Maria X] will give an introduction to cyberformance and the CyPosium, followed by a discussion.
Abstract: Steve Dixon, in the preface to his book Digital Performance (2007), acknowledges the problematic nature of the term, which is due to the wide-ranging applications of both its elements: 'digital' and 'performance'. According to Dixon, '"Digital" has become a loose and generic term (…) and the term "performance" has acquired wide-ranging applications and different nuances (…)' (p. x). Though the terms remain contested, there is no doubt that the last two decades have witnessed a proliferation of performance practices that unfold not in physical or proximal environments but online, in purpose-built platforms or appropriated virtual environments and worlds. This paper will offer a condensed art historical overview of the newly emergent genre of digital performance (or whatever else you want to call it), focusing in particular on performance practices that develop exclusively (or primarily) online.
Read More >>
Wirefire: A Complete History of Love in the Wires (parts 17-24)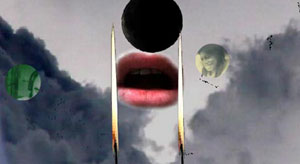 Auriea Harvey and Michaël Samyn.
Abstract: Wirefire was an online performance that occured between July 8, 1999 – January 9, 2003 every Thursday night, at Midnight, in Belgium. It began as a way for Auriea and Michael to communicate with one another when she still lived in New York City, USA and he in Ronse, Belgium. Text chat seemed too limited. Video chat too factual. Desiring a communication channel that went beyond mere word and image they buit one themselves. Believing in the network and their life that began there, this communication needed to be shared with others who were also searching for a meaning of love. Thus, Wirefire was built for: desire, intimacy and an audience.
Read More >>

We Have Always Been Avatars, and Avatars Must Die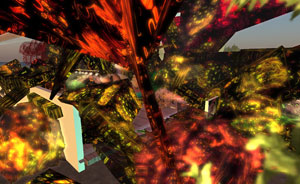 Alan Sondheim.
Abstract: It's dangerous to consider the virtual as a brave new world; the virtual has always been with us. But the lure now is the supposition that it engenders the potential of eternity, and escape from pain and death. In the meantime, the physical world is the Disaster of the Anthropocene. We must look, with open eyes, at the obdurate nature of the Real, through any means possible. We must accept our own deaths. I will discuss my work in virtual worlds and performance (with the collaboration of others) in this regard.
Read More >>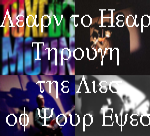 Miljana Perić.
Abstract: Basic conceptual structure of the critical textual cyberformance is organized around notions of the cyber-net-confessions as:
(1) an artist statement about her work in the form-of- or sound-like "confession",
(2) performance itself as theatricalising of a confession act, and
(3) questions around issue of con-versation (ie. chat) between performers (derived from the proposed formula of UpStage e-quality: cyberaudience+cyberplayers=cyberformers), which can be viewed, problematized and discussed as element of self-expressive and con-fessional creative processes.
Read More >>
ATHEMOO and NetSeduction: Censorship and The Art of Sexting Before Cell Phones
Stephen A. Schrum.
Abstract: This session will recall the production of NetSeduction staged in ATHEMOO in 1996. Though only a text-based virtual reality, it caused consternation and efforts of censorship by the moderator of ATHEMOO, who was worried that the frank sexual dialogue would cause offense. (This, of course, assumed that anyone would actually log in and show up for the performance.) Flash-forward to 2012, with cell phone users "sexting" and Second Life avatars participating in consensual "pixel sex." Was text-only more dangerous than full-frontal cartoonage? Or has culture change that makes text-only less powerful, by virtue of their ubiquity in a constantly-texting society?
Read More >>
HEAD SHOT! Performative Interventions in Mixed Realities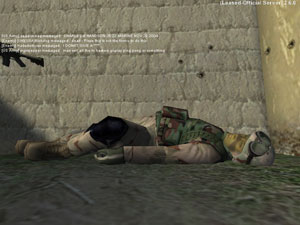 Joseph DeLappe.
Abstract: Joseph DeLappe will contextualize an approach to creative activities in computer games as locations for interventionist performances and/or sites for data extraction for the creation of artifacts. DeLappe's presentation will focus on several of his most recent projects engaging in activist oriented performance and Internet based art projects. He will as well discuss dead-in-iraq, 2006-2011, his 2008 project, The Salt Satyagraha Online, Gandhi's March to Dandi in Second Life, Chatroulette: Discipline and Punish, 2011 and Taliban Hands, 2012, among others.
Read More >>

So far, and yet, so close: Lessons from Telematic Improvisation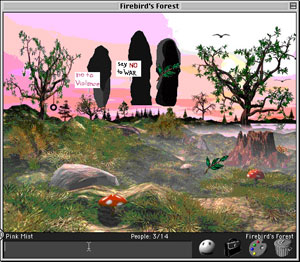 Adriene Jenik.
Abstract: When improvising across distances (as in telematic improvisation), how do artists utilize the unique properties of distance? What types of performance cues develop within a networked improvisatory environment? This paper draws upon my experience directing improvisational performance projects (Desktop Theater, SPECFLIC and Open_Borders Lounge) to address these and other questions. In doing so, I hope to expand the understanding of telematics performance practice and address not only differences in form and technique; but the ways in which socio-political context, language differences, and time zone shifts can contribute to a critical conversation on improvisation. I will examine long-held notions of the centrality of proximal bodies in improvisation. Though the subject of the live body has been interrogated in relation to technological prosthesis and the residue of the live body has been acknowledged even in its mediated form , much remains to understand.
Read More >>
Re-Calling Home!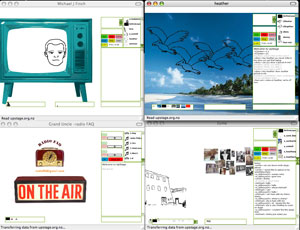 ActiveLayers.
Abstract: Using the Waterwheel Tap, the four members of ActiveLayers will chronicle the development of the 3-part work Calling Home! created in 2008. We will describe our collaborative process, challenges encountered and how we addressed them, how our diverse backgrounds influenced our processes, the development of the story and characters, the specificities of the three parts and ways in which we tried to engage audiences and challenge the mediums used.
Read More >>
Ethernet Orchestra: Case Studies of Networked Intercultural Improvisation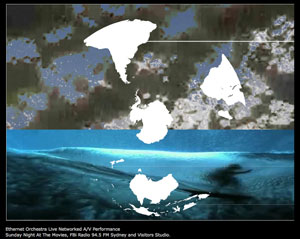 Roger Mills.
Abstract: This paper evaluates two intercultural improvisatory performances by the networked music ensemble Ethernet Orchestra. It examines the creative and cognitive challenges faced by musicians collaborating across distance, and cultural and musical traditions. The multimodal analysis investigates the strategies that musicians develop in action, as they are "thinking of what they are doing, and, in the process, evolving their way of doing it [1]. Viewed through a semiotic framework, the analysis focuses on "aural perspective" [2], representation and cross-cultural interpretation in improvisatory dialogues, and the ways in which they intersect during synchronous telematic performance.
[1] SHÖN, D. 1995. The Reflective Practitioner: How Professionals Think in Action, Aldershot, Aldgate Publishing.
[2] LEEUWEN, T. V. 1999. Speech, music, sound, Basingstoke, Macmillan.
Read More >>
Transmittance – a telematic performance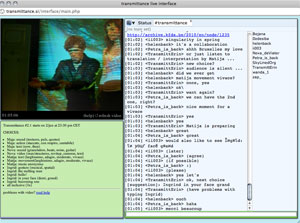 Maja Delak & Luka Prinčič.
Abstract: Transmittance is an experiment of collision of two performative worlds: physical and telematic. Through careful attention to questions and how are they communicated to two-fold online & offline public a locally situated artistic group of performers, visual artists, musicians and computer programmers create a situation of intense non-linear storytelling.
In this presentation we would like to trace a personal history of mediated art & non-art that we find referential for our project. We would briefly tap into thematic and methodological approaches present in Transmittance in the context of other artistic online live art – namely cyber-performance – which we tackle here in no way as an exhaustive analysis.
Read More >>