The book is out!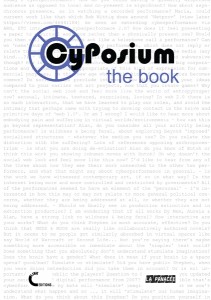 We're delighted to announce CyPo­sium — the book, edited by Annie Abra­hams and Helen Var­ley Jamieson and pub­lished by Link Edi­tions and La Panacée.
CyPo­sium — The Book presents a selec­tion of arte­facts from the CyPo­sium — pre­sen­ta­tion texts, chat log excerpts, dis­cus­sion tran­scripts, edited email con­ver­sa­tions, cre­ative chat excerpt essays and illus­tra­tions — along with invited arti­cles that respond to the event. The con­trib­u­tors hail from a wide range of artis­tic prac­tice both online and offline, and their writ­ing illus­trates the hybrid­ity of con­tem­po­rary arts involv­ing dig­i­tal technologies.
Contributors: Adriene Jenik, Alan Sond­heim, Alberto Vazquez, Annie Abra­hams, Auriea Har­vey and Michaël Samyn, Cherry Tru­luck, Clara Gomes, Helen Var­ley Jamieson, James Cun­ning­ham, Joseph DeLappe, Liz Bryce, Maria Chatzichristodoulou, Maja Delak and Luka Prinčič, Mil­jana Perić, Rob Myers, Roger Mills, Ruth Cat­low, Stephen A. Schrum and Suzon Fuks.
You can order a hard­copy (full colour, 171 pages) via Lulu.com, read the e-book online, or down­load the free PDF.
View a record­ing of the launch cyber­for­mance here.
Online doc­u­men­ta­tion
From the Pre­sen­ta­tions page, select the pre­sen­ta­tion or dis­cus­sion you wish to see; you'll find a screen record­ing plus chat log tran­script and other infor­ma­tion includ­ing pre­sen­ta­tion texts and links.
The CyPo­sium: 12 Octo­ber 2012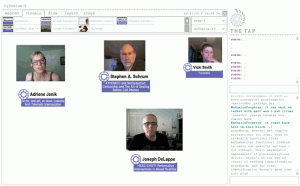 Since the early 1990s, there has been a grow­ing body of live per­for­mance that is sit­u­ated online. These events dif­fer enor­mously in form and con­tent, are described with mul­ti­ple terms (such as cyber­for­mance, remote per­for­mance, inter­net the­atre, screen stage, computer-mediated per­for­mance), are staged in a vari­ety of online envi­ron­ments (such as text-based and graph­i­cal chat rooms, sound broad­cast, real time chore­og­ra­phy for screen, vir­tual worlds, games and purpose-built or exist­ing plat­forms as for instance face­book) and engage diverse audi­ences. The net, how­ever, is for­get­ful: it loses the mem­ory of those events, and of the peo­ple who lived them, of the envi­ron­ments and com­mu­ni­ties who hosted them.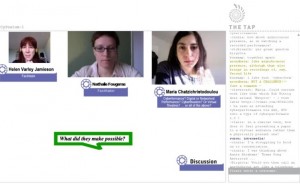 On 12 Octo­ber 2012, a cyber­for­mance sym­po­sium was hosted by UpStage, the Water­wheel Tap and inde­pen­dent cyber­form­ers, where cyber­form­ers dis­cussed their online per­for­mances with other artists, researchers and inter­ested par­tic­i­pants. Ques­tions tack­led included: What dif­fer­ent kind of events hap­pened? What did they make pos­si­ble? What was spe­cial about the event? Why were things done in a cer­tain way and what were the results?
We invited pro­pos­als for pre­sen­ta­tions about past online per­for­mances (click here to see the call) and received a very good response, from which we selected 9 pre­sen­ta­tions and an intro­duc­tion.
Contact:info@nullcyposium.net