The book is out!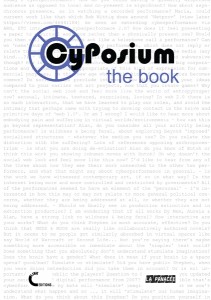 We're delighted to announce CyPosium – the book, edited by Annie Abrahams and Helen Varley Jamieson and published by Link Editions and La Panacée.
CyPosium – The Book presents a selection of artefacts from the CyPosium – presentation texts, chat log excerpts, discussion transcripts, edited email conversations, creative chat excerpt essays and illustrations – along with invited articles that respond to the event. The contributors hail from a wide range of artistic practice both online and offline, and their writing illustrates the hybridity of contemporary arts involving digital technologies.
Contributors: Adriene Jenik, Alan Sondheim, Alberto Vazquez, Annie Abrahams, Auriea Harvey and Michaël Samyn, Cherry Truluck, Clara Gomes, Helen Varley Jamieson, James Cunningham, Joseph DeLappe, Liz Bryce, Maria Chatzichristodoulou, Maja Delak and Luka Prinčič, Miljana Perić, Rob Myers, Roger Mills, Ruth Catlow, Stephen A. Schrum and Suzon Fuks.
You can order a hardcopy (full colour, 171 pages) via Lulu.com, read the e-book online, or download the free PDF.
View a recording of the launch cyberformance here.
Online documentation
From the Presentations page, select the presentation or discussion you wish to see; you'll find a screen recording plus chat log transcript and other information including presentation texts and links.
The CyPosium: 12 October 2012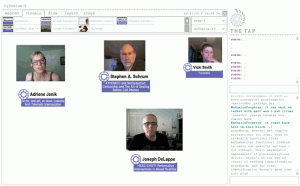 Since the early 1990s, there has been a growing body of live performance that is situated online. These events differ enormously in form and content, are described with multiple terms (such as cyberformance, remote performance, internet theatre, screen stage, computer-mediated performance), are staged in a variety of online environments (such as text-based and graphical chat rooms, sound broadcast, real time choreography for screen, virtual worlds, games and purpose-built or existing platforms as for instance facebook) and engage diverse audiences. The net, however, is forgetful: it loses the memory of those events, and of the people who lived them, of the environments and communities who hosted them.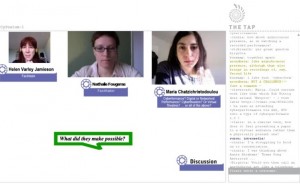 On 12 October 2012, a cyberformance symposium was hosted by UpStage, the Waterwheel Tap and independent cyberformers, where cyberformers discussed their online performances with other artists, researchers and interested participants. Questions tackled included: What different kind of events happened? What did they make possible? What was special about the event? Why were things done in a certain way and what were the results?
We invited proposals for presentations about past online performances (click here to see the call) and received a very good response, from which we selected 9 presentations and an introduction.
Contact:info@nullcyposium.net