CyPosium – the book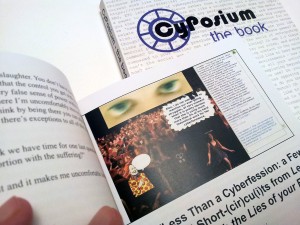 CyPosium – The Book presents a selection of artefacts from the CyPosium – presentation texts, chat log excerpts, discussion transcripts, edited email conversations, creative chat excerpt essays and illustrations – along with invited articles that respond to the event. The contributors hail from a wide range of artistic practice both online and offline, and their writing illustrates the hybridity of contemporary arts involving digital technologies.
Edited by Annie Abrahams and Helen Varley Jamieson.
Published by Link Editions and La Panacée, 2014.
ISBN: 9781291988925
Contributors: Adriene Jenik, Alan Sondheim, Alberto Vazquez, Annie Abrahams, Auriea Harvey and Michaël Samyn, Cherry Truluck, Clara Gomes, Helen Varley Jamieson, James Cunningham, Joseph DeLappe, Liz Bryce, Maria Chatzichristodoulou, Maja Delak and Luka Prinčič, Miljana Perić, Rob Myers, Roger Mills, Ruth Catlow, Stephen A. Schrum and Suzon Fuks.
You can order a hardcopy (full colour, 171 pages) via Lulu.com, read the e-book online, or download the free PDF.